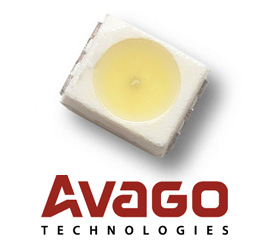 Low power, high brightness White PLCC-2 LEDs to serve Your Lighting needs!
This LED family of white LEDs has been developed for Lighting applications such as Light Strips, Panel Lighting, Down Lights, Shop Lighting, Backlighting and any kind of wide-surface Lighting applications.

The tight ANSI color bins are ideal to support uniform white appearance in lighting applications.
Key features:
Cool, Neutral and Warm White available in ANSI bins for uniform CCT (ranging from 2700K to 8000K)
Luminous Efficiency 100 lm/W at 20mA
Luminous Intensity 2.5cd at 20mA
Forward Voltage 2.8V - 3.6V
Silicone encapsulation for long life performance (minimum 50000 hours lifetime with >70% light output maintenance).